I have two possible birth dates for Edward Freestone.
My first known birth date was 7 July 1855. I have done quite a bit of research on Edward and have quite a few sources for his life. In fact, for this specific date I have 9 sources!
Sources for 7 July 1855
Edward Freestone's Death Certificate. Edward's death certificate gives his date of birth as 7 July 1855 and the location as England.
1900 U.S. Census, Edward Freestone Household. Gives Edward's birth date as July 1855 and place as England.
1910 US Census, Edward Freestone Household. Edwards Age is listed as 55 years old in the 1910 census, which would make his birth year about 1855. Also, lists his birth place as England.
Newspaper Announcement of his upcoming 80th birthday, dated 5 July 1935.
1920 U.S. Federal Census, Ralph G. Warner Household.The 1920 US Census states that Catherine Warner (Freestone)'s father (Edward) was born in England.
1930 U.S. Federal Census, Ralph G. Warner Household. 1930 US Census list's Katherine Warner's father's birth place as England.
1920 U.S. Census, Edward Freestone Household. Age on 22 Jan 1920 reported as 64 years old, and birth place as England.
1930 U.S. Census, Edward Freestone Household. Age on 9 Apr 1930 reported as 74 years old and birth place as England.
Edward Freestone's newspaper obituary, printed 9 May 1941. Gives age as 85 and birth date as July 7, 1855 at Suffolk county England.
As you can see, only 2 sources (his death certificate and obituary) specifically give 7 July 1855 as Edward's date of birth. The rest either give just his age, or place of birth. So this is the date I went with.
Until…
I went looking for his Birth Registration.
To find Civil Birth Registrations for the UK you need to look through the index and then order the copy directly form the General Register Office. I used is the freeBMD.org.uk index and found my potential Edward. The problem with the index is that it only lists births/marriages/deaths by Quarter (So Jan-Apr, Mar-Jun, July-Sep, Oct-Dec) and then Gives the District, and Volume/Page where the entry is found. Luckily I knew that Edward was born in Suffolk County, but there were two possible results.
Both of these Edwards were born in the Sep 1855 quarter (July-Sept 1855) in the same county. No other information is listed in the index so, unless I order the certified copy, I won't know anything else. I decided to go with the Wangford District since it was closest to the town of South Elmham, which I already had in my family records.
Here's the digital image of the original index.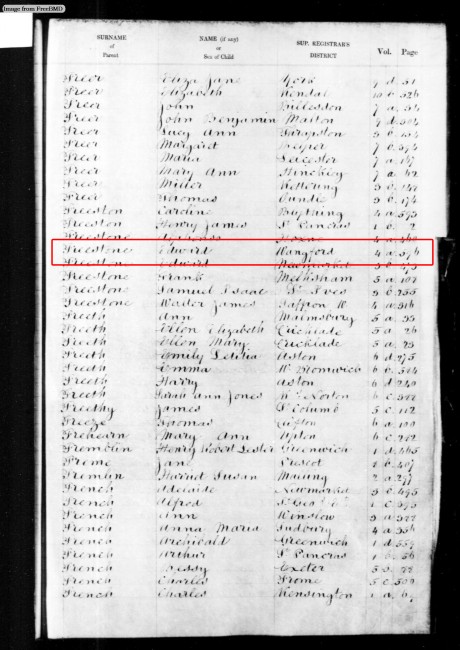 After my £9.25 fee was paid, and about two weeks later, I received the certified copy in the mail.
Luckily it was the correct one!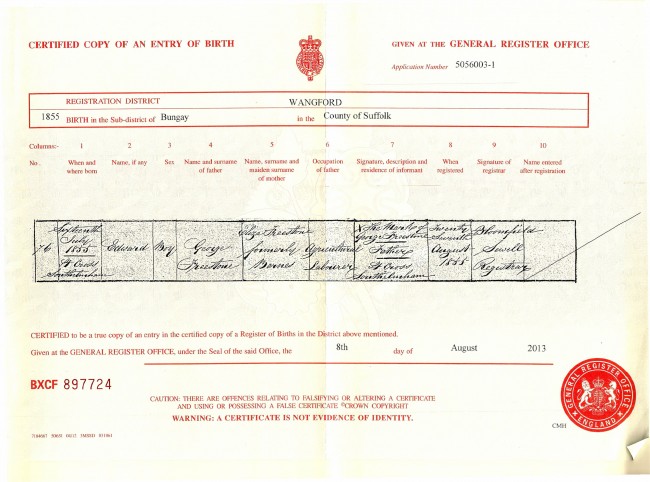 Abstract:

Edward born 16 July 1855 in St. Cross Southelmham, in Bungay, Wangford, Suffolk County, England, United Kingdom. He is the son of George Freestone and Eliza Freestone, formerly Barnes. His father, George is an Agricultural Laborer, and is illiterate since he used "x" as his mark.
But, this record does bring up some issues. Edward's birth date is listed as 16 July 1855 instead of 7 July. So, which record(s) are correct?
I decided that since the only other records I had that explicitly stated the date of 7 July were his death record and obituary that perhaps this birth record (which was registered on 27 Aug 1855) is most likely correct. The informant on his death certificate was his son George Freestone who most definitely was not present at his own father's birth. And, Edward's obituary was again written 85 years after his birth by someone who was not present. Ultimately, I "know" my own birth date only because its the date that someone told me (or that I remember someone telling me). But, since this record was created much closer to the actual date, I believe it to be more accurate.
But, does it really matter?
Ultimately, no not really.
However, for accuracy sake, yes it does. Also, this birth record gives me a lot more information that I need to continue working backwards in time. I now know:
Edward's birth date is 16 July 1855.
The location of his birth was St. Cross, Southelmham, in Bungay, Wangford, Suffolk County, England, UK – which narrows down where I might search for other vital records for his family.
His parents were George and Eliza (Barnes) Freestone – which should help me in tracking down their marriage record.
And just for fun, I know that George was an Agricultural Laborer (farmer?) and that he was illiterate.