Trying to work my way back in England has been a bit tougher than I thought.
Yesterday I discussed how I found Edward Freestone's (b. 1825) birth registration. The next logical step seemed to be to find his parents' marriage record.
What I already knew
All that I had from the database I inherited from Troy's Aunt was:
George Freestone, b. 6 Mar 1825 in Flexton, Suffolk, England was married about 1864 in England to Elizabeth Barnes, b. 18 Jul 1829 in St. Lawrence, Ilketshall, Suffolk, England.
The only evidence for this information was that "England" was correct for their birth places based on their son Edward's US census records.
There are some issues with this marriage date. First, its not very specific in regards to both date and place. Second, according to this same inherited database George and Elizabeth's first child (Alfred) was born in 1848 (16 years prior to the alleged marriage date). Of course, that may well be the case but it does raise some concern and leads me to question the accuracy of that information (either the marriage date or Alfred's birth date).
So now to find the Marriage Record
I went to freeBMD.org.uk once again but now had to be a bit more strategic. I did a search for "George Freestone" who would have married at any time between 1840 and 1870. Since I had to specify a county, I chose Suffolk, since that is where both George and Eliza were born (according to this inherited database – hey, you have to start somewhere) and where I found Edward (their son's) birth record.
I saved this search as a PDF. That way I could compare it to my search for Elizabeth. Since all that freeBMD gives is the one person's name and their record number I had to find a matching Elizabeth with the same marriage record in order for there to be a George Freestone marrying and Elizabeth Barnes.
Here's a screenshot of what that looks like: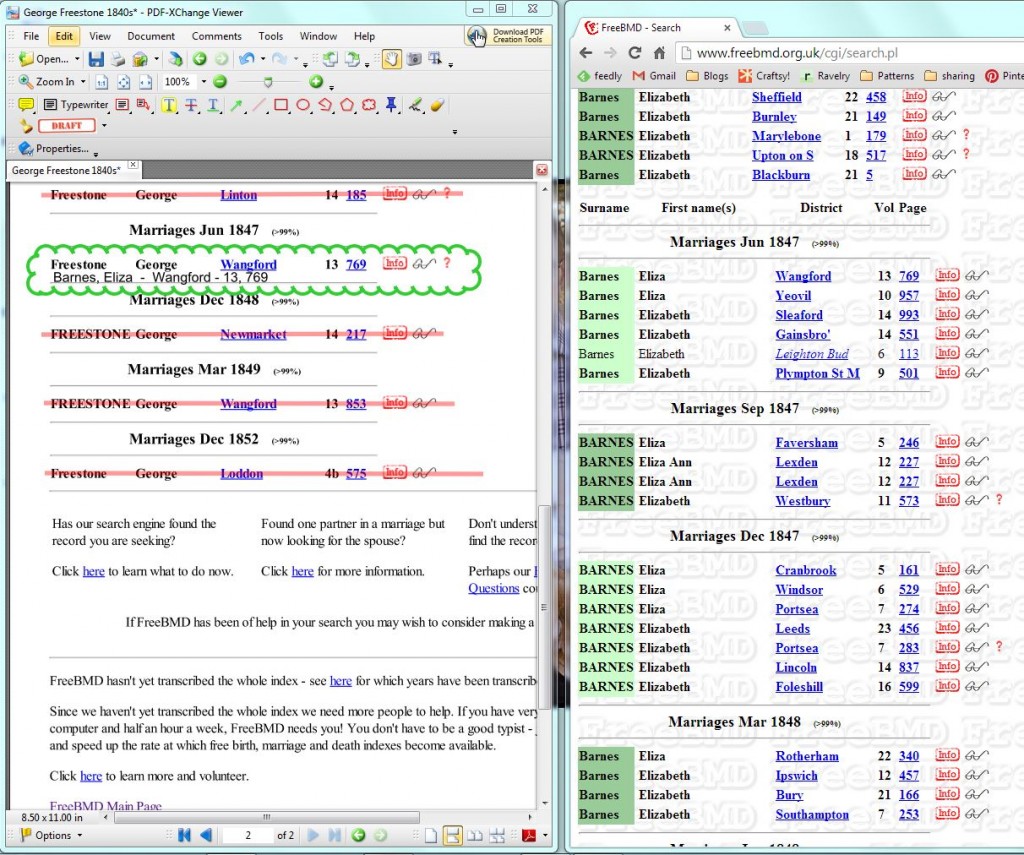 Note that under Marriages in June Quarter of 1847 (April-June) there is an Eliza Barnes with the same record Volume and page number. This was the only match of a George Freestone marrying and Eliza Barnes.
This must be my couple!
So, now I know which record I need to order. I can now request the certified copy of the filmed original from the UK General Register Office and wait a few weeks for it to arrive.
For now, as I wait, I can at least change the marriage date in my database to a more specific: April-June 1847 in Wangford, Suffolk, England, United Kingdom.